Watch Witmer's lecture on contextual engineering
On October 28, Dr. Ann-Perry Witmer presented "Contextual Engineering" as a Zoom lecture hosted by the MechSE Department and Associate Teaching Professor Leon Liebenberg. Watch the video of the presentation below.
Abstract
In her Zoom presentation, Dr. Ann-Perry Witmer will discuss "Contextual Engineering", an emerging and critical discipline for globally minded engineers. She will elaborate on the related multi-disciplinary research efforts on campus and at universities on six continents. She will discuss how we can evolve traditional pedagogies to meaningfully bring together the social science and humanitarian disciplines within engineering practice. This presentation will introduce the tenets of Contextual Engineering as well as the challenges and benefits of infusing traditional engineering design with the understanding of people, place, and time.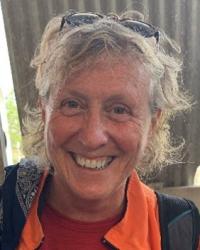 About Ann-Perry Witmer
Ann-Perry Witmer, PhD, PE, is a research scientist with the university's Applied Research Institute as well as a lecturer in the Agricultural and Biological Engineering Department, the Carle Illinois College of Medicine, and the Electrical and Computer Engineering Department. Her Contextual Engineering research group explores aspects of theory and practice associated with humanitarian engineering design and implementation for non-industrialized societies. The courses she teaches are multi-disciplinary and draw upon social sciences to inform technical design decision making for infrastructure engineers, and several water systems designed by student teams have been constructed and are operating in Central America. In addition to her doctoral degree, Witmer holds B.S. and M.S. degrees in Civil Engineering from the University of Illinois, as well as a B.S. in journalism and a B.A. in art history from Boston University.
Host: Leon Liebenberg