BS in Mechanical Engineering
Program Overview
Among the most diverse of the engineering fields, mechanical engineering affects almost all aspects of our lives and embraces many areas of specialization: automotive systems; bioengineering; combustion and propulsion; design methodology and tribology; dynamic systems and controls; energy systems and thermodynamics; fluid mechanics; heat transfer; manufacturing and production; materials behavior and processing; and microscale and nanoscale phenomena and systems.
Our ABET accredited undergraduate program in Mechanical Engineering at the University of Illinois is consistently ranked among the best in the United States. Students in our department enjoy access to internationally renowned and award-winning faculty, world-class laboratories, and exceptional resources.
ME Curriculum Requirements
The flowsheets below are a semester-by-semester visual outline of the courses required within the Mechanical Engineering curriculum. The flowsheets are provided to enable students and advisors to visualize pre-, co-, and postrequisites associated with specific courses within the curriculum. This is a tool to enable you to understand how courses are connected throughout our curriculum to provide guidance regarding course registration and scheduling.
---
Mechanical Engineering students who began their college career prior to fall 2021 can follow the Mechanical Engineering flowsheet from their entry year (see below).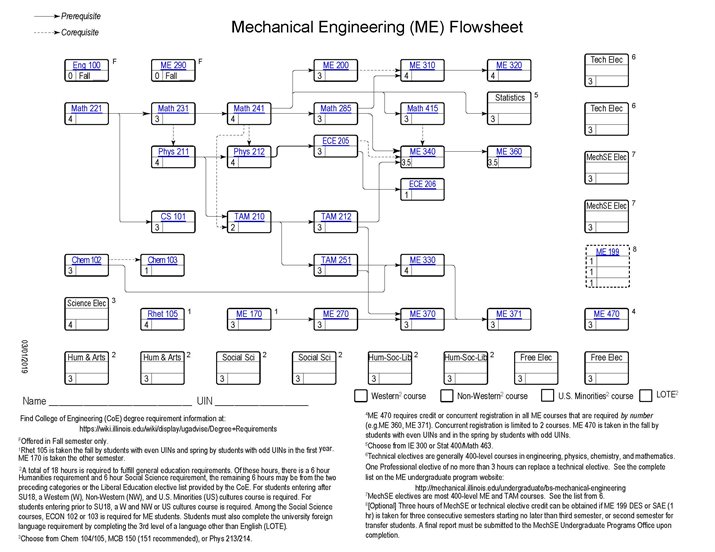 ---
Want a more interactive experience? Use our Mechanical Engineering digital flowsheet (for students entering prior to fall 2021).
Note: For full functionality, please use the digital flowsheet in Adobe Reader. This digital flowsheet has known compatibility issues in Mac Viewer. Changes may not be saved properly to the digital flowsheet if it is not downloaded, opened, modified, and saved in Adobe.
Visualization of pre-,co-, and post-requisites
Course prerequisite chain
Immediate prerequisite
Credit or concurrent registration required
Concurrent registration required
Postrequisite course sequence
Freshman
Sophomore
Junior
Senior
Fall
Spring
Fall
Spring
Fall
Spring
Fall
Spring
Notes:
RHET 105 (or an alternative Composition I sequence) is taken either in the first or second semester of the first year, according to the student's UIN (Spring if your UIN is Odd). ME 170 is taken the other semester. Composition I guidelines can be found at http://catalog.illinois.edu/general-information/degree-general-education-requirements/ under Written Communication Requirement.
Students must take 6 hours from the campus General Education Social and Behavioral Sciences list, 6 hours from campus General Education Humanities and the Arts list, and 6 hours from a liberal education list approved by the college or from the campus General Education lists for Social and Behavioral Sciences or Humanities and the Arts. ECON 102 or ECON 103 must be one of the Social and Behavioral Sciences courses. Students must also complete the campus cultural studies requirement by completing (i) one western/comparative culture(s) course, (ii) one non-western culture(s) course, and (iii) one U.S. Minority Culture(s) course from the General Education cultural studies lists. Most students select general education courses that simultaneously satisfy these cultural studies requirements.
Science elective of 4 hours, semester placement depends on prerequisites. You may choose from CHEM 104/105, MCB 150(/151 optional) OR PHYS 213/214.
MechSE Electives totaling 6 hours, selected from dept approved list.
ME 470 is taken either the first or second semester of the fourth year, according to the student's UIN (FA if UIN is even and SP if UIN is odd). ME 470 satisfies the Advanced Composition requirement. MechSE elective is taken the other semester.
Statistics Electives totaling 3 hours. IE 300 or STAT 400 (4 hrs). The extra hour for STAT 400 will count towards free elective hours.
Technical Electives totaling 6 hours, selected from dept approved list. The Technical Elective category can also be fulfilled with MechSE Electives over the required 6 hours.
ME Tech Electives
---
The revised MechSE and technical elective list must be used by all students that will start their college career in Fall 2017 and beyond. This updated list includes a new "professional elective" category that allows Mechanical Engineering students to take up to 3 credit hours (towards their technical elective requirement) of 300 or 400 level STEM related courses that will enhance their career opportunities.
Mechanical Engineering students who began their college career prior to fall 2017 (fall 2017 calendar year) can petition to follow the prior MechSE and technical elective requirements. Continuing students who already took courses that were removed from the technical electives list can petition to follow the prior technical elective requirements, if they still want those courses to count towards their technical elective requirements. Petitions for curricular changes regarding technical electives must be sent to mechse-ug-advise@illinois.edu.
MechSE 2.25 GPA and TGPA Requirements
The MechSE Department maintains a cumulative 2.25 grade-point-average (GPA) requirement for lower-level technical courses. In order for a student to move onto upper-level (generally 300/400-level) ME or TAM courses, the 2.25 GPA requirement must be met. Failure to meet the 2.25 GPA will require students to retake previous coursework and potentially reduce course loads to meet the 2.25 GPA requirement.
Once students gets into their upper-level, more specialized coursework, a cumulative technical GPA (TGPA) requirement is implemented in addition to the traditional cumulative GPA requirement (>2.0 GPA to remain clear of probationary status). Students who do not have a TGPA of atleast 2.0 will be subject to probationary rules and will not be able to graduate. For more information on probationary rules, please see the Student Code, Article 3 - Academic Policies and Regulations.
The back of the ME flowsheet indicates courses in the ME curriculum subject to 2.25 GPA and TGPA rules.
A complete list of courses included in MechSE's TGPA calculation is below.