Kaufman outlines Ford's vision for the future of electric vehicles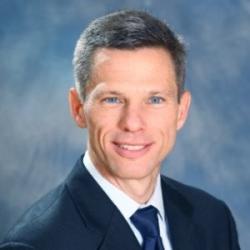 MechSE alumnus Mark Kaufman (BSME '89) recently delivered an hour-long webinar on the future of electric vehicles. Kaufman, who has been with Ford Motor Company for more than five years and became its Global Director of Electrification this past April, presented in a live broadcast hosted by the Collision Industry Electronic Commerce Association (CIECA).
"The EV industry is very much at a tipping point and there's a number of factors that are going to drive that (moving forward)," said Kaufman, who cited decreasing battery cost and increasing availability of product choices as two main influencers of the evolving electric vehicle market. Kaufman's research on future trends in the market indicates that there may be at least 100 different battery-electric vehicles (BEVs or EVs) available in the US market by 2025, and more than 300 in overseas markets.
Earlier this month, Ford announced the upcoming production of its new electric cargo van, the E-Transit. The new BEV will go on sale toward the end of 2021 and will be manufactured at Ford's Kansas City plant.
"Because we have 35 years of vehicle leadership within the U.S. market and five years' leadership in Europe, the E-Transit is launching with many commercial units available," Kaufman said. "We wanted to make sure we had all roof heights and body lengths available so that we have lots of opportunities to help our customers get the job done."
Ford has already launched its F-150 hybrid pickup truck and is in the process of rolling out its 2021 all-electric Mustang Mach-E compact SUV. "Within Ford, we took it very seriously that this is still a Mustang," Kaufman said of the new model. "If it's got the pony on the front, the handling and the capability of the vehicle have to live up to the DNA."
Kaufman discussed some of the design considerations that went into the Mach-E, such as maintaining its aggressive frontal profile and strategically placing the battery packs to maximize both interior space and handling ability.
"Having that large battery right at the bottom of the vehicle really helps with a low center of gravity," Kaufman said of the Mach-E's design. "Even though this is a SUV body style that has room for five adults, the center of gravity for the vehicle is only 30 mm above the current coupe."
Ford has also addressed the need for EV charging infrastructure by opening North America's largest electric vehicle charging network, which offers more than 12,000 charging stations. Each of Ford's BEVs will also come with a mobile charger unit.
All in all, the future of electric vehicles appears bright. "We've actually got a great increase in flexibility on how to create products and plans beyond what we would traditionally have within conventionally powered vehicles," said Kaufman, remarking on the physically shorter length required of an assembly line for EVs as compared to vehicles powered by internal combustion. Joining a growing array of companies that have made pledges toward net-zero emissions, including Apple, Microsoft, Aldi, Starbucks, and Mercedes-Benz AG, Ford has announced its goal of becoming a carbon-neutral company by 2050.