Ewoldt wins Dean's Award for Excellence in Research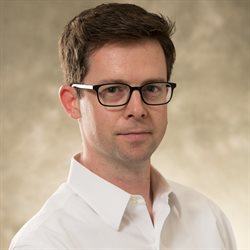 Associate Professor and Kritzer Faculty Scholar Randy Ewoldt has won a 2021 Grainger College of Engineering Dean's Award for Excellence in Research. The distinction recognizes associate professors who boast exceptional research accomplishments over the last five years. He was one of six from across the college to earn the award this year. In 2016, Ewoldt won this same honor for his research achievements as an assistant professor.
Ewoldt and his research group study rheology with a combination of experiment and theory, with an eye toward design based on rheological behavior. He has earned numerous awards for his innovative, early-career research.
Ewoldt joined MechSE in 2011 after a postdoctoral fellowship at the University of Minnesota. He received PhD and MS degrees in mechanical engineering from MIT after earning a BS degree in mechanical engineering at Iowa State University.