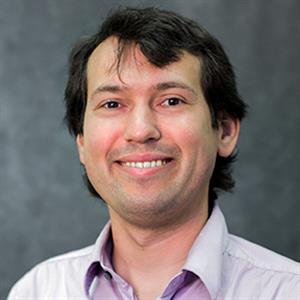 For More Information
Education
Ph.D. Physics, Cornell University, 2011
Master of Science, Physics, Cornell University, 2008
Bachelor of Science, Physics and Mathematics, University of California Santa Cruz, 2003
Academic Positions
Affiliate, Materials Research Lab, September 1, 2017 - Present
Affiliate, Electrical and Computer Engineering, March 18, 2017 - present
Affiliate, Beckman Institute, November 1, 2015 - December 2020
Affiliate, Holonyak Micro and Nanotechnology Lab, UIUC August 15, 2015 - Present
Assistant Professor, Department of Mechanical Science and Engineering, UIUC, August 16, 2015 - Aug 2021
Postdoctoral Fellow, Energy Frontier Research Center, Columbia University, 2012-2015
Postdoctoral Researcher, Department of Mechanical Engineering, Columbia University, 2011-2015
Graduate Student Researcher, Laboratory of Atomic and Solid State Physics, Cornell University, 2004-2010
Resident Instruction
ME370 - Mechanical Design, Spring 2023
ME498 - Nanofabrication & Characterization, Fall 2022, on list of "teachers ranked as outstanding"
Research Interests
Professor van der Zande's research re-engineers classic 3D systems at atomic length scale like mechanical structures such as atomically-thin membranes or flexible films and electronic structures such as transistors or photodiodes. We utilize molecular scale building blocks made from new 2D materials like graphene and molybdenum disulfide. The materials are naturally stable at only one to a few atoms thick and can be grown or manually manipulated to build heterostructures with tailored properties by stacking 2D materials layer-by-layer, like lego building blocks. These new structures are then used in applications that lie at the forefront of nanotechnology such as highly-tunable nano-electro-mechanical systems, flexible electronics, pushing Moore's Law, sensors, biological interfaces and new energy systems.
Research Areas
Applied Physics
Chemistry
Energy
Manufacturing
Security and Defense
Solid Mechanics and Materials
Thermo and Heat Transfer
Selected Articles in Journals
Articles in Conference Proceedings
Research Honors
Thimann Award for excellence in the sciences, University of California, Santa Cruz (2002-2003)
Goldwater Award, national undergraduate award for excellence in the Sciences (2003)
Cornell Graduate Fellowship, Cornell University (2003-2005)
Cornell Center for Materials Research Gaines Fellowship, Cornell University (2007-2008)
Energy Frontier Research Center Fellowship, Columbia University (2012)
Clarivate Analytics Highly Cited Researcher. This list recognizes world-class researchers selected for their exceptional research performance, demonstrated by production of multiple highly cited papers that rank in the top 1% by citations for field and year in Web of Science. One of only 11 researchers at UIUC (2018)
NSF CAREER award 2019. MOMS program in CMMI Directorate. (2019)
Clarivate Analytics Highly Cited Researcher. This list recognizes world-class researchers selected for their exceptional research performance, demonstrated by production of multiple highly cited papers that rank in the top 1% by citations for field and year in Web of Science. One of only 8 researchers at UIUC. (2019)
2021 Dean's Award for Excellence in Research, Assistant Professor (2021)
Clarivate Analytics Highly Cited Researcher. This list recognizes world-class researchers selected for their exceptional research performance, demonstrated by production of multiple highly cited papers that rank in the top 1% by citations for field and year in Web of Science. One of only 8 researchers at UIUC. (2021)
Society for Engineering Science (SES) 2022 Young Investigator Medal (2022)
Clarivate Analytics Highly Cited Researcher. This list recognizes world-class researchers selected for their exceptional research performance, demonstrated by production of multiple highly cited papers that rank in the top 1% by citations for field and year in Web of Science. One of only 6 current researchers at UIUC. (2022)
Recent Courses Taught
BIOE 497 AZ - Individual Study
ME 370 - Mechanical Design I
ME 498 AVU (ME 498 LI3, ME 498 LI4, ME 498 LO3) - Nano-Fab & Characterization
ME 586 - Mechanics of MEMS
ME 598 AL1 (ME 598 AL2, ME 598 AN1, ME 598 AN2, ME 598 AV1, ME 598 AV2, ME 598 AV4, ME 598 AVG, ME 598 AVZ) - Mechanics of 2D Nanomaterials