Transfer printing enhanced by new laser-driven shape memory effect
A unique transfer printing approach detailed in Assistant Professor Seok Kim's
paper
, "Laser-Driven Shape Memory Effect for Transfer Printing Combining Parallelism with Individual Object Control," was published last week in the journal
Advanced Materials Technologies
. His graduate student Jeffrey Eisenhaure is first author on the paper.
"Transfer printing, a method using polymeric stamps to transfer micro-objects, has been demonstrated either as a parallel process with high throughput, or as a low throughput process allowing individual manipulation of micro-objects—but not both simultaneously,"
Kim
said. "So it has been challenging to claim that transfer printing-based microassembly is a highly flexible and scalable, manufacturing process."
To address this challenge, Kim and Eisenhaure presented a unique transfer printing approach which enables arbitrary pattern transfer from an array of micro-objects via localized control of adhesion. The technique relies on thermally induced shape change of shape memory polymer (SMP) stamp arrays with carbon black-composite shape memory polymer (CBSMP) microstructuring.
In this process, heat is first delivered globally by a resistive heater, facilitating parallel micro-object pickup, then locally by laser illumination absorbed within the CBSMP during printing. This enables precise and selective micro-object release with packing density limited only by the spot size of the accompanying laser system.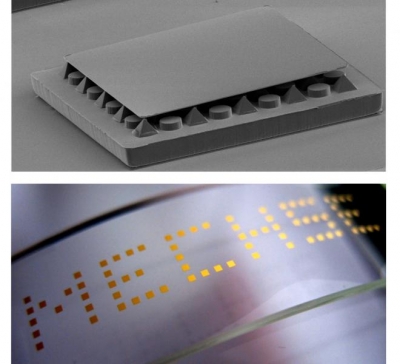 "In such a way, the transfer printing approach shown in our work combines parallelism with individual object control to elevate transfer printing-based microassembly toward not only highly scalable but also very flexible manufacturing processes," Kim said.
This work, along with Kim's "micro-LEGO" manufacturing techniques, serves as a foundation to make transfer printing-based assembly one of the common micro-manufacturing methods, enabling microsystems with higher performance or new functionalities, with relevance not only to microelectromechanical systems (MEMS) but also to electronics, photonics, and other areas.
Kim is a leading scientist in advanced transfer printing and transfer printing-based microassembly. His work on
multiple-material assembly
, called "micro-LEGO," was recently published by
Scientific Reports
. He joined the MechSE department as an assistant professor in 2011. He earned a bachelor's degree in mechanical engineering in 2000 from Pohang University of Science and Technology (South Korea), a master's degree in mechanical and aerospace engineering in 2005 from UCLA, and a PhD in mechanical engineering in 2009 from Carnegie Mellon University.
Eisenhaure received his bachelor's degree in chemical engineering in 2007 from the University of Massachusetts Amherst.