Three MechSE finalists in Image of Research competition
UPDATE, April 5: Judged by a panel of university faculty and staff, Sara Moshage won 1st Place in the competition!
The group of 25 finalists in the Grad College's 2018 Image of Research competition includes three graduate students from MechSE.
The Image of Research is a multidisciplinary competition celebrating the diversity and breadth of graduate student research at Illinois. Entries are judged by a multidisciplinary panel for connection between image, text, and research; originality, and visual impact. A full gallery of the semi-finalists can be viewed on Instagram.
The winners of the competition will be announced at a reception on Wednesday, April 4, 4:00-6:00 p.m. in room 220 of the University Library, where attendees can view the entries and to vote for the People's Choice award. The competition is part of Graduate Student Appreciation Week at Illinois.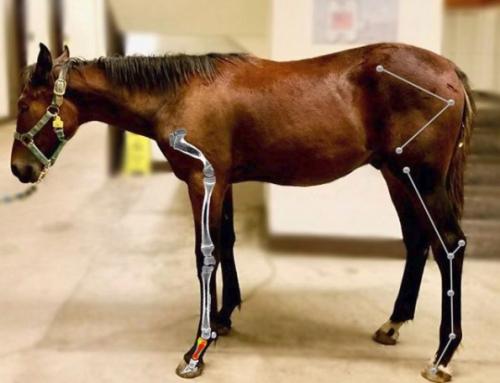 Sara G. Moshage (Assistant Professor Mariana Kersh's Tissue Biomechanics Lab)
Exploring how growth changes the way horse bones handle stress
Ever wondered why horses have difficulty recovering from broken legs? Because they don't have hands to use crutches! Horses weigh so much that they can only lay down for a few hours at a time, and standing on three legs for a long period of time causes other issues. A leading cause of fatality in sport horses (think jumpers and race horses) is fracture to a leg bone. Few of these fractures can be fixed. Understanding how bone grows and strengthens can help us better understand the fracture of such bones. My research looks at a specific lower leg bone, the proximal phalanx (the colorful bone), and how this bone grows during the first year of a horse's life. Specifically, I am investigating whether the bone changes how it handles loads during growth. To do this, Illini Cyclone (the horse pictured) undergoes CT scans every few months. We also collect information on how he walks, so we can model the bone correctly (markers on back leg). The ultimate goal of this project is to propose a training strategy to horse trainers that lowers the likelihood of proximal phalanx fracture, saving as many horses as possible from an untimely demise.
Arif M. Abdullah (advisor is Adjunct Professor Jimmy Hsia)
Self-folding from 2D to 3D
Self-folding refers to the mechanisms through which a structure can sense the variations in its surroundings and demonstrate #bending behavior to undergo autonomous shape transformation. The potential to reconfigure engineered systems (across length scales) in a tether-less and on-demand manner has made self-folding a topic of substantial technological importance. For my research, I fabricate planar bilayer sheets of varying geometric parameters and then investigate their shape transformation behavior in organic solvents. The self-folding process from planar to curved configurations is driven by the differential behavior of the bilayers where one constituent layer swells more than the other as the solvent concentration increases. In this picture, bilayer polymeric samples (individual layers were pigmented white and purple for visualization) were swelled and then imaged separately from the top to make up the words "UIUC" and "MECHSE." These images demonstrate the possibilities for programmable and on-demand realization of complex three-dimensional architectures from rationally designed two-dimensional bilayer systems. Thus, my research findings could be used to design shape reconfigurable functional devices for sensing, actuation, drug delivery, and energy harvesting.
Gabriel Barsi Haberfeld (Professor Naira Hovakimyan's Advanced Controls Research Laboratory)
The Future of Assistive Co-robots
We explore flying robots that are consistent with principles of human spatial perception and foster a high level of comfort. These robots are the foundation of what will be the future of home and urban automation services. We pose questions such as: how safe are these robots? How comfortable to humans feel in their vicinity? How can we, as engineers, improve quality of life with modern robotics? We use techniques from various fields in an interdisciplinary research to answer these questions. Depicted here is an artistic rendition of one of the prototype small flying robots for tight spaces that can perform pick and place tasks intelligently and robustly. Flight tests are underway.