Shao to focus on big data in manufacturing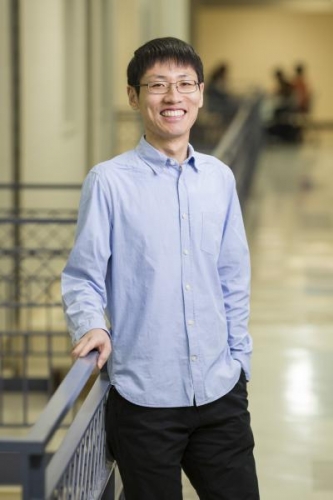 New MechSE assistant professor
Chenhui Shao
didn't always plan on going into mechanical engineering.
Shao grew up in a small town in China where he spent most of his childhood in a rigorous school system.
"There wasn't much time for extracurricular activities," said Shao. "Our school days went from 7 a.m. to about 9:30 p.m."
As he completed high school and began applying for colleges, he struggled to find a major that would fit him. His father, a math teacher in China, helped guide Shao's decision to find a field of study that would both interest and support him. Between his love for math, science, and research, Shao discovered that engineering was the perfect fit for him.
He earned his bachelor's degree in automation at the University of Science and Technology of China in 2009. Originally, Shao had no intention of studying abroad; he planned to stay close to his family and friends in his home country. But after speaking with professors and learning about the opportunities in the U.S., he decided that moving overseas could open up research possibilities that were crucial to his studies.
Shao moved to Ann Arbor, where he earned two master's degrees – in industrial and operations engineering and statistics – at the University of Michigan in 2013. Three years later, he completed his PhD in mechanical engineering there, then continued his research with a postdoctoral position for several more months. After interviewing at the University of Illinois, he knew it was the place for him.
"I felt that I could succeed in this environment," said Shao. He said his positive first impressions with the faculty as well as the department's interest in his area of study would be a great place to focus his efforts.
Shao's research centers on the development and application of statistical methods for big data in manufacturing and the monitoring and control of manufacturing processes and systems. Manufacturing plants collect massive sums of data but typically don't use it in its entirety. Thus, Shao has targeted his research on tracking the patterns in manufacturing statistics, which can provide corporations with useful data for future projects.
Although he has only been at the university since August, Shao has already begun to settle into MechSE. He is in the process of setting up his lab and is currently teaching Dynamics of Mechanical Systems (
ME 340
).