More researchers support outreach with Paper 2 Tree
Last month, several MechSE professors participated in Assistant Professor Mattia Gazzola's
Paper 2 Tree
outreach project, some for the second year in a row.
This time, professors Alison Dunn and Katie Matlack funded two trees that represented their research publications and contributions to the community. Chenhui Shao, Aimy Wissa, and Gazzola each led educational activities at Urbana and Champaign elementary schools based on their research.
P2T allows researchers to give back to the community by sharing what they're passionate about—teaching and research. This time, like last year's P2T event, the faculty interacted with fourth and fifth graders at Martin Luther King Elementary School in Urbana and fourth graders at Booker T. Washington STEM Academy (BTW) in Champaign.
Shao led MLK fifth graders in a cookie puzzle activity related to his manufacturing research. First, students received a plate covered with aluminum foil that concealed a different shaped cookie (either an "I", a circle, or a star). Then the students stuck toothpicks through the foil in an effort to correctly guess their cookie's shape with the fewest number of toothpick pokes.
Shao said the activity was designed to teach concepts of spatial sampling and optimal measurement strategies, which are important in smart manufacturing so manufacturers can make optimal decisions and "use minimum resources to get maximum information about processes, stations, systems, factories, and supply chains."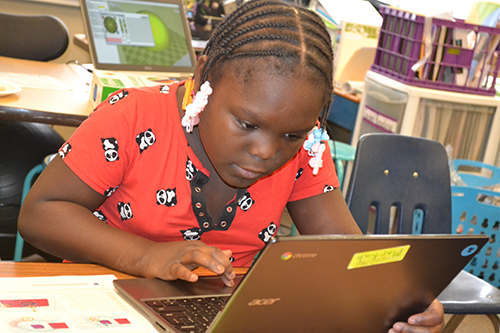 He said he believes educating the next generation of manufacturing engineers is crucial. He hoped to get children interested in his field early on to "engage a large and diverse manufacturing cohort through scientific discovery and education to manufacture innovative products and discover new knowledge that will in turn benefit the society."
MLK fifth graders also experienced 3D printing, courtesy of Joe Muskin, MechSE's Outreach Coordinator. Using TinkerCAD, a computer-aided design software for kids, students designed a keychain, then watched as it was 3D printed in their classroom.
MLK fifth-grade teacher Shalonda Carr said having faculty visit her classroom is beneficial to her students because they not only share their expertise, but they expose students to role models and potential career options.
"Having other people who have an expertise in something outside of my field is good for them to see that what we're learning in class isn't just about class," she says. "It's about how they can extend this into maybe a university career or into a job that they want to have in STEM or anything else."
After the classroom activities at MLK, the students helped the Urbana Park District plant a Shingle Oak tree in nearby King Park.
Later that day, fourth graders at BTW learned about Gazzola's robotics research during a robotic fish activity, then Wissa and some of her students helped them build and fly bio-inspired gliders.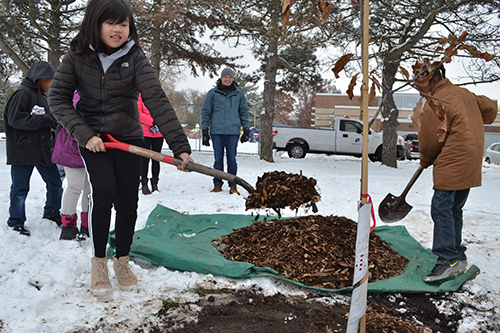 Dunn and her PhD student Jiho Kim, led an activity with the BTW students focused on corrosive wear. Kim and Dunn's recent paper, "Thixotropic Mechanics in Soft Hydrated Sliding Interfaces," formed the basis of their activity that introduced to the students the concept of wear and basic experimental procedures.
For the activity, students measured the weight of lollipops after rubbing them against sandpaper, putting them in water, and licking them, then recorded how the lollipops were reduced in weight.
Kim said he personally benefitted from the outreach, especially by learning to communicate his research in ways children could understand. "As a PhD student, I always present my work to professors or graduate students who are familiar with technical words and concepts. I was surprised to realize how hard it is to explain the concepts to young students. It was a really meaningful experience that made me think about easier and more efficient ways of describing ideas. Also, watching the young students enjoying learning was a pleasant experience."
Dunn and Kim's tree was planted at Douglass Park, next to BTW.
Matlack also sponsored a tree – a ginko – planted in Champaign's Douglass Park. "To me, it's important to take an active role in giving back to my community. Paper2Trees does this by engaging elementary school students and in developing parks in the area…The tree sponsorship was a nice way to commemorate the first journal paper our research group published, by helping to sustain green spaces in our area."
Gazzola launched Paper2Tree in November 2017, with previous tree plantings taking place in Fall 2017 and Spring 2018. To date, six new trees have been planted locally. He said Paper2Tree has benefits besides proactively planting trees to replace the paper used by academia. Not only does the community gain trees and kids get exposed to engineering, but Gazzola and his colleagues also benefit from the outreach.
"I'm happy this program is ongoing. We plan to keep going with these events—every spring, plant some trees and in the fall, plan outreach activities like this," said Gazzola.