Oh, The People You'll Know: Paige Solcani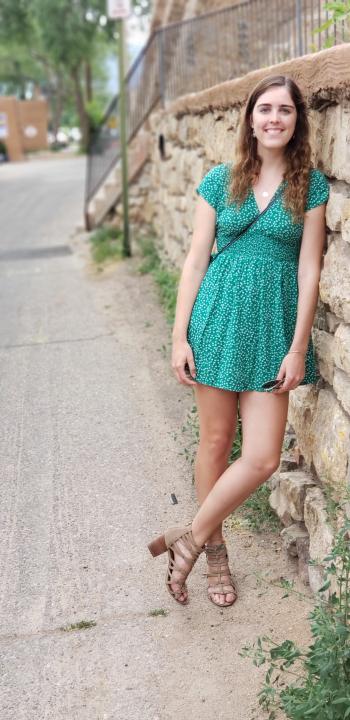 Trying to fit everything that Paige Solcani has left her mark on during college into a tidy, single blog post is no easy task. Before we get into Paige's highlights of her college experiences, I'd like to list a few exciting things she was involved in, with links to learn more if you are interested in perusing them further:
two intramural soccer teams
,
SWE Team Tech
,
serving as a MechSE tour guide
,
WIMSE Learning Living Community
,
BMES Engineering Open House Project
.
Some of Paige's greatest joys in college have been the opportunities to give back to the community and when she was able to put herself into new situations. During her junior year, she served as an Engineering Learning Assistant. When one of her students told her that they didn't know how they would have made it through their freshman year without her, Paige knew the opportunity to make a meaningful impact in the lives of incoming engineers meant a lot to her. This pushed her to become the Lead Engineering Learning Assistant, the position which she currently holds. In this roll, Paige oversees all of the Engineering Learning Assistants, has a say in the structure of the curriculum, and can still teach a class of her own. She is excited for the great chance to improve a program that she feels already has many great aspects.
Another community-based organization Paige made a great impact on is the American Society of Mechanical Engineers. Initially joining her freshman year of college, Paige acted as the Social Director her junior year, and is currently the Vice President. She enjoyed working as Social Director because she was able to provide spaces for ASME members to spend fun time with each other away from the work. As the Vice President, Paige's work lives primarily behind the scenes, working with the internal ASME committee and serving as an intermediate between the students and the faculty, and improving student-faculty relationships for the future.
During the first semester of her sophomore year, Paige studied abroad in Melbourne, Australia, where she found a great adventure, and a sense of her own independence. Between studying coding and engineering math, she traveled up and down the coast, earned her scuba diving certification in the Great Barrier Reef, and traveled through New Zealand with the friends she made in the program. Her favorite memories come not only from the places she visited, but the people she visited them with.
Recognizing the importance of her study abroad experience on her college career, Paige wanted to help other students find their own adventure, and she started to work at the International Programs in Engineering office. She created a program called iPals that helps connect students studying abroad and give them a sense of community. In addition, she advises study abroad students and gives them a grounding foundation at the university.
Prior to her senior year, Paige worked for Sandia National Labs in New Mexico. Working with metal additive manufacturing, she designed, 3D printed, and tested housing components that would eventually be used in nuclear weapons. As a member of an interdisciplinary team, Paige learned from her coworkers and their diverse backgrounds.
Paige expresses her gratitude for Illinois through her heavy involvement on campus. She wanted to give back to the diverse community of people who helped her succeed. She believes Illinois is a great university and the large campus allows anyone to find somewhere they can be the best version of themselves. Paige feels the support networks she has built have given her the strength to know that through the difficult times everything is possible.