Oh, the People You'll Know: Maya D'Souza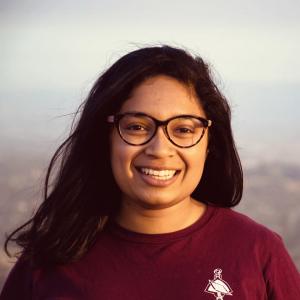 Maya's dad is a software engineer, and when she was young she thought he had the answer to every question. His passion for his field sparked her curiosity and desire to find something of her own that she could be as passionate about. In high school, Maya had a passion for physics, and she was a part of Math Team and Science Olympiad. When considering a major, she found mechanical engineering, and appreciated that it offered an applied, yet broad coverage of engineering principles. Maya said her teachers were a part of what drove her love for STEM.
Maya, now a recent graduate, has inspired some pupils of her own. In high school, she was a tutor for Kumon Math and Reading where she worked primarily with young children. She said the process of explaining fundamental concepts that we take for granted, like letter recognition to read for example, helped her to learn how to better convey her own ideas and communicate effectively.
This passion for service extends far beyond her teaching work. During her time in MechSE, Maya was greatly involved in ASME and Women in MechSE. She served on the Competitions Committee every year of college, and the Outreach Committee for three of her four years. She appreciated the technical skills she learned from the Competitions Committee, and was proud to see the progress the team made from her freshman year to senior year. Maya was heavily involved in the Outreach Committee, volunteering to do science activities with students at Booker T Washington elementary and organizing fundraisers for the STEM program at Kenwood Elementary. She served as the director of the committee her junior year.
Maya served in several other leadership positions. For ASME, she was Webmaster her sophomore year, and Internal Affairs Director her senior year. For Women in MechSE, she served as the Social Director her freshman year, Internal Affairs Chair her junior year, and as President her senior year. In addition, she was as an Engineering 100 Engineering Learning Assistant her junior year.
Maya said that both of the RSOs meant a great deal to her. Women in MechSE offered the opportunity to encourage women to be more involved in the MechSE department and engineering RSOs. Maya was glad to be a part of a club that supports and upholds women engineers. She was grateful for the professional and technical skills ASME gave her, but also felt that it allowed her to grow as a person and is where she met many of her closest friends. Along with MechSE coursework and all of her extracurricular involvement, Maya also completed a minor in ECE.
During her time in college, Maya had three internships. She worked at Caterpillar in Decatur, IL the summer after her freshman year, and part-time during her first semester sophomore year. While working for the motor grader configuration team, she created model assemblies of aftermarket attachments to perform virtual audits and updated CAD models to reflect manufacturing changes. The summer after her sophomore year she worked on under-counter ice makers at Whirlpool in Benton Harbor, MI. She scoped and created preliminary designs to adapt a new ice-making technology to the ice makers, identified focus areas and projects to reduce the Global Service Incident Rate, and supported DoE testing on ice rate. The summer after her junior year she worked on Hidden Valley Ranch Packaging at Clorox in Pleasanton, CA. She designed and tested packaging for a new product. After graduation, Maya will be working at 3M in Maplewood, Minnesota, as a Design Engineer focusing on equipment design.
Maya appreciated the MechSE community for prioritizing collaboration over competition. She felt that everyone was willing to help everyone else in times of need. She has fond memories of the moment her ME 370 pole climbing robot finally worked after a deadline extension, and all of the surreal joy she and her team members felt. She also remembers all of the late nights, and appreciates the sense of support and community that she felt while she was working hard.
Maya's kind spirit is infectious. There is no doubt in my mind that she will bring her warm spirit and tremendous work ethic to everything she pursues in the future.