Declassified Career Survival Guide: Amol Rairikar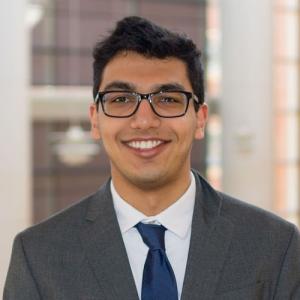 Amol Rairikar is a senior in mechanical engineering who is interested (and experienced!) in consulting. He found real-world consulting opportunities through Illinois Business Consulting on campus. He was able to apply the skills he learned at a global consulting firm during his internship at Protivit. This is Amol's MechSE Declassified Career Survival Guide.
Consulting on Campus
Illinois Business Consulting is an incredible professionally managed, student-run consulting group based in the Gies College of Business. The group admits students of all ages, ranging from freshmen to post-doctoral students, and pairs them with real-world clients. IBC doesn't admit only business students; of the 260 students involved, about 24% are engineering students.
Amol learned about IBC and joined the second semester of his freshman year, and has been involved with it ever since. He has a great appreciation for the people in the group. They have created an atmosphere where everyone, including the leaders, are willing to sit down and take the time to ensure that all members of the team are on board with their assignments. During his time in IBC, Amol picked up skills in Excel and Tableau as well as public speaking and professional presentation.
Amol and the other members of IBC traveled to their clients like a professional would do for a full-time position. Four semesters ago, he traveled to Atlanta to present his work. The opportunity to travel out of state made it one of his favorite projects.
Internship Experience
After his sophomore year, Amol worked for a company called People's Gas and Light, a natural gas company based in Chicago. He found that this particular work wasn't what he wanted, and looked for a different opportunity the following summer.
Following his junior year, Amol worked for Protiviti. He focused on two projects, one based in technology, and the other on a capital project. For the technology project, Amol helped advise a business on which technology architecture strategy to use. His manager understood that the concepts were new to him and was very willing to work with him to get him up to speed to move forward. The capital project was a bit closer to engineering. Amol analyzed HVAC building efficiencies, compared them with other communities around the world, and made recommendations for further optimization. He felt this project was a good application of his engineering skills.
Consultants can often hold long hours, but Amol said Protiviti is committed to providing a healthy work life balance for their employees, with 40-hour work weeks. Amol liked the company culture that had him flying out of town on Mondays to work with the client for the week, and then back in on Thursdays. On Fridays, he would catch up with his team.
Amol also enjoyed the company-wide intern training that lasted a week and a half, and took place at Universal Studios, where Amol had a blast with the water rides.
Amol's Advice
If consulting is something that interests you, there are opportunities to learn about what consulting companies do through networking events. Reviewing a few big company case interviews will help you be prepared. They're just a Google search away, and you can start your study by simply searching for "consulting case interviews" and going from there. In addition to the preparation, Amol suggests networking with employees at consulting companies. He said he believes heavy involvement in a student organization can help you get technical experience that will open doors for your future.
Read more from the MechSE Declassified Career Survival Guide >>