3D prototyping shows high school students the engineering behind chemistry
For the fourth year in a row, chemistry students at Rantoul High School were exposed to rapid prototyping and nano-manufacturing, thanks to MechSE's very popular 3D classroom printing laboratory. Joe Muskin, MechSE's outreach coordinator, was on hand to demonstrate the technology to the engaged audience.
Each of the 150 students in Tom Gelsthorpe's and Kevin Simondsen's chemistry classes used a projection microstereo lithography technique to create small plastic objects in their classroom. Students worked in pairs, each with a projector, computer, and other equipment to make their objects, which ranged from replicas of LegoTM blocks to ships and even the Taj Mahal. The teachers used the activity to demonstrate chemical reactions while exposing their students to an important tool of engineering.
"I'm always on the lookout for great ways to get my students excited about chemistry and how they fit into my curriculum. Three-dimensional printing is a fantastic way to illustrate the relationship between energy and light and serves as a powerful motivator for students. The students' excitement carries over when they get home from school as well, as I heard from a number of parents who were complimentary of the lab and its effect on their kids. I appreciate having the opportunity to have my students perform in this lab," said Gelsthorpe.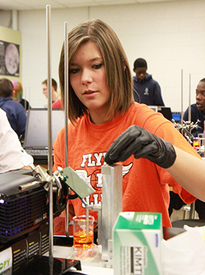 Three-dimensional printing using a photoinitiated polymer is a technique for micro- and nano-manufacturing based on research conducted in MechSE that was part of the NSF funded Nano-CEMMS center. By replacing the print head on a 3D printer with a data projector that can develop 2D layers of the objects simultaneously rather than sequentially, this eliminates the need for expensive. A simple mechanical staging device can then be constructed that allows for control of the third dimension of the object. This allows students to learn about the emerging technology of 3D printing and the polymer science behind it, connecting chemistry to a variety of disciplines, including engineering and art.