Arias awarded NASA fellowship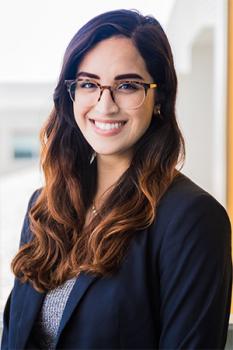 MechSE doctoral student Victoria Arias has been awarded a NASA Space Tech Graduate Research Opportunity (NSTGRO)
Fellowship
.
Arias, who is co-advised by Professors Harley Johnson and Kelly Stephani, will focus her work on "Micromechanical Response of Carbon Fiber Preform in High-Temperature Oxidizing Environments."
Arias was one of just 63 students nationwide—including an impressive three from the University of Illinois—to be selected for this year's class of U.S. citizen and permanent resident graduate students who show significant potential to contribute to NASA's goal of creating innovative new space technologies. NASA Space Technology Graduate Researchers will perform innovative, space technology research at their respective campuses and at NASA Centers.
In addition to her faculty advisors, Arias will be matched with a technically relevant and community-engaged NASA Technical Sponsor, Dr. Justin Haskins, at NASA Ames Research Center. Dr. Haskins will serve as her research collaborator and her connection to the larger technical community.
Through the program, Arias will also have an opportunity to be a "visiting technologist" at a NASA Center, working with leading engineers and scientists in their chosen area of research and directly disseminating their research results within the NASA technical community.
Arias already has years of experience with NASA-supported opportunities. As a student at University of California, Merced, she earned a NASA-funded fellowship to work on nanofabrication of carbon materials for fuel-cell applications. Shortly after, she was an intern at the NASA Langley Research Center, working on simulations of the neutron radiation shielding properties of boron-nitride nanotube (BNNT) and BNNT composites.
Currently, her graduate work at Illinois incorporates both computation and experiment to uncover the coupling between the chemistry and micromechanics of high temperature oxidation of carbon fibers. Her goal is to shed light on the mechanisms by which thermal protection system (TPS) materials, like carbon fiber preform, break down during the atmospheric reentry of space vehicles.