Alumni family returns to discuss non-traditional career paths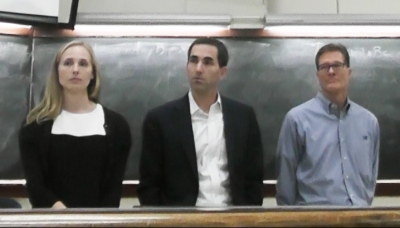 It runs in the family: MechSE alumni Robert (Bobby) Reifman, Nicole Reifman and Bryan Lammers have more than just their alma mater in common. They are family. In October, the trio guest-lectured an
ME 390 class
, where they provided insights for students on non-traditional careers in engineering. All three of them, who graduated with bachelor's degrees in mechanical engineering, have chosen career paths that do not directly involve their degrees.
Nicole Reifman (BSME '03) is an intellectual property attorney at McDonnell Boehnen Hulbert & Berghoff LLP in Chicago. Her husband, Robert (Bobby) Reifman (BSME '03) is the director at Lincoln International, headquartered in Chicago. The two met as MechSE undergrads. Nicole's father, Bryan Lammers (BSME '77) is a retired technical manager at Caterpillar.
Unlike most other ME 390 lecture sessions, which focus on mechanical engineering-specific career paths, the presentation from the Reifman family allowed MechSE students to explore alternative career paths and showed how a degree in mechanical engineering can benefit a variety of occupations.
Nicole opened the lecture by discussing her work regarding patent and copyright laws for mechanical engineers.
"If you're an entrepreneur in this day and age, you're likely going to need to know what patents, trademarks, and copyrights are," she said. Nicole continued on to explain that for engineers pursuing entrepreneurial work, learning the significance of intellectual property law can help protect future business endeavors.
Following Nicole's talk, her husband Bobby spoke to the class about the benefits of an engineering education in the business world. He said that an engineer's experience and skill with mathematics and logical problems can make them an asset in the business world. Bobby also stressed the importance of having a general knowledge of the investment banking industry as an engineer. He said that as engineers start their own companies, they'll need to know the economics of the business world for their brand to succeed.
"There's going to be a number of you that are here today that are going to go into engineering, you're going to start your own company, and you're going to grow it and want to sell it someday," he said. "That's what we're talking about here."
Bryan discussed another facet of the unconventional engineering route, primarily focusing on a managerial career in technical industries.
"In most fortune 50 companies like Caterpillar, there are two career paths. There's a technical career path and a managerial career path," he said. "With those two career paths, especially at a place like Caterpillar, what you really need to understand is that you can get to the same level both ways."
He explained that the most important trait in reaching a managerial position is to be able to be succinct, direct and talk to upper-level managers. These qualities, he said, not only are important to reach the position, but are also important to maintain and succeed in it.