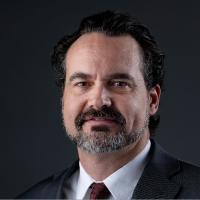 MechSE alumnus Eric Brown (BSME '98, MSTAM '01, PhDTAM '03) has been elected as a 2021 Fellow of the American Physical Society (APS).
The APS Fellowship Program recognizes members who have made exceptional contributions to the physics enterprise in physics research, important applications of physics, leadership in or service to physics, or significant contributions to physics education.

Each year, no more than one half of one percent of the Society membership is recognized by their peers for election to Fellow of the American Physical Society. This year, 155 Fellows were selected and recognized for their contributions to science.

Brown has worked at Los Alamos National Laboratory since he received his PhD in 2003, now holding the position of Scientist 5 in the Office of Experimental Science. His research in materials science spans fracture and damage of complex heterogeneous polymers and polymer composites for energetic, reactive, and structural applications including crystalline phase transitions, plasticity, dynamic loading conditions, and self-healing materials.
Brown served many years on the MechSE Alumni Board and received a MechSE Distinguished Alumni Award in 2020.