Two MechSE undergrads win SWE scholarships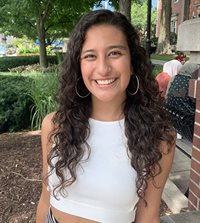 Two undergraduate women from MechSE have been named 2021 scholarship recipients from the Society of Women Engineers. SWE awarded nearly 289 scholarships, totaling more than $1.2M to freshman, sophomore, junior, senior and graduate students for the 2021-2022 academic year. The recipients of SWE scholarships are a group of extremely accomplished and driven students who excel both inside and outside of the classroom, said SWE.
Mechanical engineering sophomore Ximena Castillo won the GE Women's Network Scholarship. On campus, Castillo is involved in the UIUC chapter of the Society of Hispanic Professional Engineers (SHPE), serving as the the Outreach and Communications Lead on the Community Service Committee last semester, and as a Coaching Lead on the Internal Team this school year. As Coaching Lead, she works with new members, making sure they have the tools to succeed and find their place within SHPE. Castillo is also on the Baja SAE team, where she is on the suspension sub-team and will be designing an upper A-arm jig.
Mechanical engineering senior Isha Tyle won the Intel SWE Scholarship. Tyle has been actively involved with numerous organizations across campus, encouraging student activism and outreach activities for future generations of women engineers. She has held leadership positions with SWE, ASME, WiM, EOH, GLOBE, T&M, and has successfully completed four internships across various industries throughout her 4.5 years in MechSE.
The SWE scholarship program assists these young individuals in accomplishing their dreams of being engineers who contribute to society. The names of all recipients will be published in the conference issue of SWE Magazine this month.