Chien presents Epigenetic Regulation of Vascular Mechanotransduction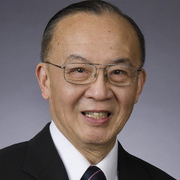 Professor Shu Chien, the founding Director of UC San Diego's Institute of Engineering in Medicine, gave a MechSE Distinguished Seminar on April 20.
His talk was titled, "Epigenetic Regulation of Vascular Mechanotransduction."
Abstract: Vascular endothelial cells (ECs) play significant roles in regulating circulatory homeostasis. Shear stress resulting from circulatory flow modulates EC functions by mechanotransduction involving mechano-sensors, signaling pathways, and gene and protein expressions. Sustained shear stress with a clear direction (pulsatile shear stress, PS, in the straight arteries) down-regulates pro-inflammatory and proliferative pathways. Shear stress without definitive direction (disturbed or oscillatory flow, OS, at branches and curvatures) causes sustained signaling of pro-inflammatory and proliferative pathways. These flow patterns cause differential epigenetic responses, including microRNA (miR), histone modifications, DNA methylation and RNA methylation, as well as long non-coding RNA (lncRNA). The detrimental effects of OS on miRs, lncRNA, histone modification, and DNA and RNA hypermethylation are found in disturbed flow areas of rat arteries in vivo. These experimental studies on epigenetic mechanisms provide new insights on the fine tuning of EC gene regulation in response to differential flows in health and disease.
About the Speaker: Shu Chien received medical degree from National Taiwan University and Ph.D. in Physiology from Columbia University. He is University Professor Emeritus of Bioengineering and Medicine and was Founding Director of Institute of Engineering in Medicine at University of California San Diego. His research focuses on molecular, cellular and integrative bioengineering. Chien has served as presidents of American Institute for Medical and Biological Engineering, American Physiological Society, Biomedical Engineering Society, Federation of American Societies of Experimental Biology, International Society of Biorheology, and Microcirculatory Society. He is a member of National Academy of Sciences, National Academy of Engineering, National Academy of Medicine, American Academy of Arts and Sciences, National Academy of Inventors, and Academia Sinica, as well as a foreign member of Chinese Academy of Sciences. He has received 6 Honorary Doctoral Degrees, 16 Honorary Professorship, the Melville Medal (twice), Revelle Medal, Franklin Medal, and the Founders Award of National Academy of Engineering. He is a recipient of the National Health Medal and Presidential Prize in Life Sciences from Taiwan, ROC, and the National Medal of Science, the highest honor for scientists and engineers in USA, in 2011.
Hosts: Professors Taher Saif, Ning Wang, and Shelby Hutchens