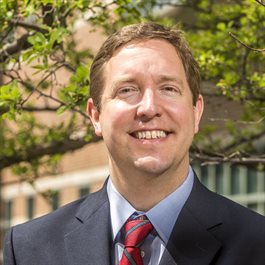 MechSE alumnus Michael Kessler (MSTAM '98, PhDTAM '02), a MechSE alumni board member and the dean of the North Dakota State University College of Engineering, has been named a fellow of the National Academy of Inventors.
Kessler was among 175 inventors from across the country who were honored by NAI. Election to NAI Fellow is the highest professional distinction accorded solely to academic inventors.
"This award is very special to me because it recognizes the success we've had over the past 20 years in transitioning research into innovations in the form of patents," Kessler said. "However, this was a team effort. All 20 of my issued patents have co-inventors, many of whom are former graduate students and postdocs that have worked with me. So, I hope that this recognition is something that they can take pride in as well."
Kessler was nominated by Chad Ulven, NDSU professor and associate chair of mechanical engineering.
"Dr. Kessler is an outstanding materials engineer, an innovative inventor, an extremely productive researcher, a dedicated educator and mentor, and a committed leader," Ulven said "As someone who has demonstrated a prolific spirit of innovation in creating and facilitating outstanding inventions that have made a tangible impact on quality of life and welfare of society, he embodies all the qualities of an NAI fellow. It would be a fitting honor to grant him a fellow designation."
Kessler joined the NDSU faculty in 2017. He previously was the Berry Family Director of the School of Mechanical and Materials Engineering at Washington State University. He also was the founding co-director of the Center for Bioplastics and Biocomposites, a National Science Foundation Industry and University Cooperative Research Center co-located at Washington State University and Iowa State University.
He holds 20 issued patents and five additional patent applications are pending. The technologies have ranged from adhesives, plastics, coatings, and structural fibers made from renewable bio-based chemicals to light-activated shape memory polymers.
Kessler has written more than 260 peer-reviewed papers in some of the best journals in his field. His work is highly cited, with more than 14,000 total citations.