C-U resident benefits from 'perfect' MechSE project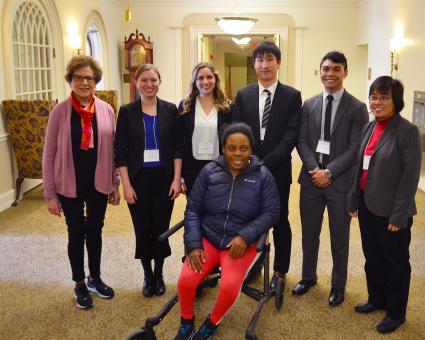 Each semester, MechSE holds its Senior Capstone Design course's final presentations at the Illini Union and crowns roughly 25% of the projects as the standouts of the competition.
During the Fall 2019 finals held December 10, the biggest winner was not one of the student teams, but a local woman for whom one of the teams had created its end product.
The "gait trainer" project team—Sung Jae Hwang, Adam Rosales, Jamie Sergay, and Abigail Steimel, advised by MechSE professor Elizabeth Hsiao-Wecksler—designed and modified a walker-like device for the course, and then presented it to client Jasmine Brown, a single mother of two who has cerebral palsy.
"We have had the opportunity to work directly with a community member to create a final product that she can actually take home and use," Sergay said during the team's presentation. "Our client has been an integral part of this process. We have consistently met with her throughout the semester, and she's invited us into her life."
Brown was pleased with the process as well, but it was the final product that made her happiest.
"It's exactly what I needed," she told the News-Gazette. "It's perfect."
Read more about Brown and the gait trainer engineering in the News-Gazette article.
Looking Forward
Typically, MechSE's Senior Capstone Design (ME 470) projects are sponsored by industrial clients or university researchers. The gait trainer project was only made possible by financial support from the MechSE Department. The department would like to include as many of these humanitarian projects as possible; donations are welcomed and will make these projects much more feasible to accomplish. To donate funds to sponsor more community-outreach design projects to be pursued by MechSE seniors, please contact Betsy Rodriquez (epowers2@illinois.edu). If you would like to propose a specific project, please contact Steve Zahos (szahos@illinois.edu).